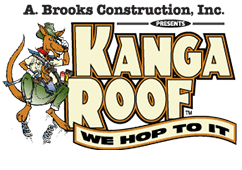 Welcome to our new website! We hope you like the new look—'cause we know we do! We have so many great new features on this site. It's going to make looking for a new roof in the Bucks County area super easy! We've also starting sending out our newsletter. This isn't just any newsletter—its one from A. Brooks Construction Kanga Roof!
Do you enjoy all those helpful tips we post on Facebook every week? Have you been pinning our pins? We love sharing DIY tips that keep your home looking great. We'll be including a lot of great advice on home repair in our newsletter. Heck, we'll even throw in some fun crafts you can do with your kids!
You can also take advantage of A. Brooks Construction Kanga Roof's deals when you subscribe to our newsletter! Simply go the website, and enter your email on the right hand side toolbar. It's that easy! We want to give you tips to keep your home beautiful, but we also want you to save on all of our awesome services. When you subscribe to our newsletter, you'll be receiving promotions for things like; free gutter cleanings, siding sales and free attic insulations! You don't want to miss out on the opportunity to save big on a new roof for your home.
Sign up today for our newsletter. You'll be glad you did. It's a way for us to show Bucks County how we can serve them. More importantly, it helps us keep in touch with our favorite customers. We also look forward to promoting the wonderful things happening around Bucks County. Organizing something you think we should share? Contact us today and we'll be happy to write about it in our newsletter!
A. Brooks Construction Kanga Roof can help you achieve roofing perfection at reasonable prices. Give us a call today at 215.752.6145 and we'll come by and give you a 17 Point Inspection. Sign up for our newsletter and visit our website to learn more about the great roofing services we provide.