At Kanga Roof, we'd rather raise your roof than lower our standards. Our talented employees are not only professionally trained but also drug tested, and background checked. We are certified in Pennsylvania and New Jersey, as well as bonded and insured. We're dedicated to providing you with the safest and most affordable roofer services in Levittown, including residential roof repair.
Our team is trained to tackle your replacement project. To replace the roof of your home, we use only top quality materials from leading manufacturers, such as
GAF
CertainTeed
Owens Corning
TAMKO
Atlas
Also, you can choose from a number of color options when your home undergoes roof repairs in Levittown!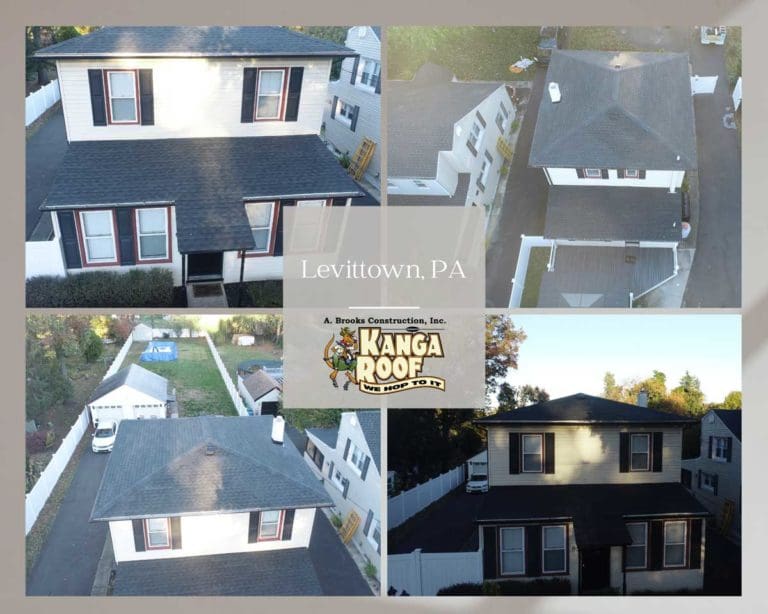 Determining When You Need Roofing Installation & Replacement in Levittown
Knowing whether you need a roof replacement for your Levittown home is not as simple as it sounds. Sometimes you might think that simple repairs would suffice, but in actuality, it would make more sense to replace your roof in its entirety. If you're uncertain whether you need residential roof replacement or repair, we will help go over your options with you. Our team will help you determine what the best steps to take would be for a new roof installation in Levittown. In the meantime, here are a few warning signs that tell you that you may need a roof replacement in the future.
Signs That You May Need Roofing Repair At Your Levittown Residence
Your roof is old – Although you can't tell how old your roof is just by looking at it, you might have an idea of how old it currently is, whether you were there from the beginning or if the previous owners let you know. Most roofs last somewhere between 20 and 25 years. If yours is older than that, you'll likely need a roof repair in Levittown to replace it sooner rather than later.
Shingles are missing – One of the most apparent signs that your roof needs a replacement is when you find that some of its shingles are missing. This will also let you know that it is older, and you should be thinking about finding a professional to repair or replace it. Additionally, look for any cracked shingles, curled shingle edges, and missing granules. If you're missing any shingles and need to file an insurance claim, we can help you with that too!
You can see algae or dark streaks – While dark streaks may not necessarily damage the shingles on your roof, you can't deny that they look rather unappealing. Dark streaks are a sign of algae, which is another way of telling that your roof is getting old and that you should replace it soon with the help of a residential roofing company in Levittown you can trust!
High-Quality Roofing Maintenance
If you think you're in need of roof maintenance for your Levittown home, Kanga Roof will send a trained and licensed technician to provide a full roof estimate that includes an attic inspection as well as photos that highlight the condition and any evidence of wear and weather. If you're looking for an affordable roofer servicing Levittown and other nearby areas, please contact us as soon as possible or fill out our online request form.
Garage Door Installation in Levittown
We at Kanga Roof are more than just a residential roofing company in Levittown: we also handle garage door installation and repair for Levittown homes! If you're tired of handling a faulty garage door every time you drive home from work, then you can look to Kanga Roof for a solution! Our expert team of technicians is ready and eager to help install your new garage door, so you won't have to worry about it giving you a hard time ever again.
Garage Door Repair for Levittown Homes
Sometimes garage door damage doesn't require you to replace it entirely; just some maintenance to fix any problems and get it running smoothly again. The skills our professionals have performing roof maintenance in Levittown can also be utilized to help your beloved garage door function as good as new.
Installations for Garage Door Openers in Levittown
While the door of your garage is important, so is the opener responsible for lifting it up and lowering it back down again. At Kanga Roof, we can help install cutting-edge garage door openers in Levittown residences complete with contemporary features!
Overhead Care Club & Introducing the NEW Heroes Program
When you enroll in our Overhead Care Club, you'll receive Kanga Roof's most reliable roofing services, including:
The Roof Care Advantage
A 21-Point Roof Check-up and Attic Analysis ($379 Value)
Garage Door Inspections
($179 value)
Skylight Cleaning
($99 value)
Large Debris Removal
($79 value)
Our Overhead Care Club also comes with an exclusive members-only 10% repair discount. You'll also receive an exclusive $19.95 reduced service fee, and 60% savings on diagnostics. That's a $89.99 value for only $19.95!
With your exclusive club membership you'll hop to the front of the line. Priority guaranteed appointments within 24 hours
Window Installation & Replacement in Levittown Homes
Our residential roofing company serves Levittown in more ways than just repairing roofs and garage doors but also by making sure your home has secure windows. The next time you see a dangerous crack or shattered glass, don't hesitate to call Kanga Roof for window replacement and installation in Levittown.
Commercial Roofing Services For Levittown Businesses
While Kanga Roof is well known for being a residential roofing company in Levittown, we can help replace the shingles in other types of buildings as well. Our roofing contractors in Levittown can also lend their expertise to businesses that need repairs and maintenance performed on the roof of their facilities. If your company ever needs professional commercial roofing services in Levittown, you'll know who to call!
Here at Kanga Roof, we're a residential roofing company for Levittown residents, but we provide our professional services to those in many other Pennsylvania and New Jersey locations, such as:
If you need the help of reliable roofing contractors in Levittown who can get the job done, contact us today!
We're ready to hop to it!
The team at Kanga Roof made me and my family feel comfortable from the very first phone call. Abe came to my house on a few different occasions and throughly explained the process & cost of getting a new roof. Greg and his crew were great!!
Abe was extremely professional! He arrived on time and got right to work. He explained everything so we could understand and gave an accurate estimate. We would recommend him to anyone and as much as we hope to not have to use him in the future he would definitely be the 1st and only roofer we would call!
These guys are the roofing pros. Greg and his team are organized and work in a very efficient manner. They use the highest quality materials and pay close attention to detail. They use a drone to take pics so you can see all the details of your roof before and after.
Check Out Our Latest Project