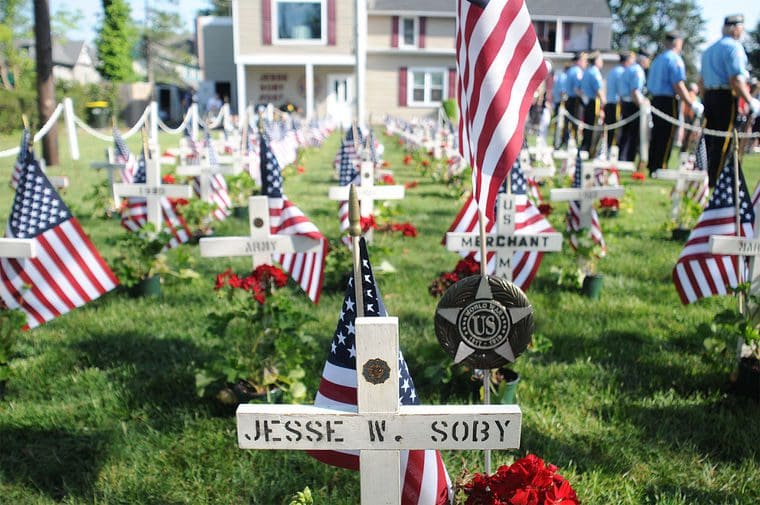 At A. Brooks Construction Kanga Roof, we have an immeasurable respect for our veterans. Every year we give a roof away to one of our deserving Bucks County veterans, and we participate in the Que for The Troops every summer. Memorial Day Weekend might be the unofficial start of summer, but it's also an important day for our country.
We believe it's important to take the time to honor the great men and women that served our country on Memorial Day. That's why we're participating in Langhorne's Memorial Day Ceremony and Parade. On Memorial Day, Monday, May 30, 2016, The Jesse W. Soby American Legion Post #148 of Langhorne will present the 97th Annual Memorial Day Ceremony and Parade. The ceremony begins at 9:00 a.m. on the lawn of the Post located at 115 W. Richardson Avenue with a parade commencing immediately afterward through the streets of Langhorne.
We'll be marching the parade route supporting our troops and we'd love to see you there! This year's guest speaker will be J. Scott Whitaker a retired US Marine Colonel who served our nation for over 31 years including tours of duty in Iraq and Afghanistan. He is a graduate of Neshaminy High School Class of 1983 and a graduate of The US Naval Academy Class of 1988.
Musical guests this year include The Avalon String Band, The Tri-County Band, The Patriot Brass Ensemble, The Nashville Cats and The Neshaminy High School Marching Band. The parade will also include a "Bicycle Parade!" So help your kids decorate their bikes patriotically so they can ride in the parade! Each bike will judged for prizes–so do your best!
After the parade, the community is invited to join members of the post for complimentary hot dogs and beverages in the rear parking lot of the Post. So come on out and say hello. We would love to meet more of our Bucks County neighbors. If you want to get your roof ready for those hot summer months give us at A. Brooks Construction Kanga Roof a call directly at 215.752.6145.