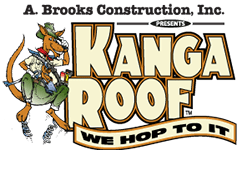 We're looking for an enthusiastic person to join our hardworking team at A. Brooks Construction Kanga Roof. Do you want to be part of a company that works hard, does the job right, and gives back to the community? Then send us your information–we'd love to hear from you. Right now, we are looking to fill a Bookkeeping position.
Here are the details:
Bookkeeping
About Us:
Residential roofing and siding company committed to being a leader in the roofing industry by setting the standards of a knowledgeable, professional, dependable roofing company. We will provide superior service and be true to our word. We are committed to provide for the families that work with us and the communities that we live in.
Responsibilities:
· Calculate costs of materials, overhead and other expenses
· Calculate, prepare and issue accounting documents
· Compile budget data and documents
· Log and reconcile transactions
· Maintain good customer relations
· Perform related clerical duties such as word processing
· Prepare period or cost statements or reports
· Respond to customer inquiries
· Use computerized and manual systems
Education:
• Completion of certified accounting courses
• High School Diploma (or equivalent)
Skills:
· Excellent communication skills
· Familiar with accounting concepts
· Familiar with accounting software
· Good math skills
· Great attention to detail
· Solves problems effectively
· Well organized
· Works well in a team Position Type Part-Time
If you want to join our team, and think you'd be a perfect fit for this position– send your cover letter and resume to meghant@kangaroofpa.com. We look forward to hearing from you!